Four seasons! Many challenges and many possibilities!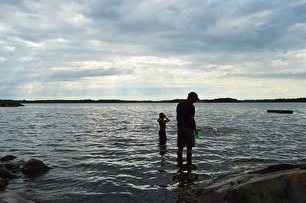 Summer!

The nature will be green again, summer nights will be light - a wonderful time of the year!

Our guests are coming and going. Nice people enjoying life at Vänsö for a week or two. Some go for a swim, others read books or go fishing.

In the summer we have much to do. The grass is growing, things need to be fixed and guests will be picked up by boat every week.

Summertime is a greeat time of the year!

Mats, Ingegerd och Bonzo