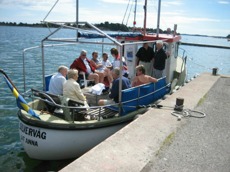 One day in Sankt Anna is a great experience.
There is a lot to do and see in the archipilago of Sankt Anna.

You can just enjoy the boat trip or go swimming on a remote island or go to Harstena and have a great lunch at the restaurant. You can also visit the mussel farm it you are interested.

Call me and we will arrange a great day.
PRICES:
3000 SEK/one full day. Maximum 12 passangers.
A few hours or an evening, call me and I will give you a price.
Mats Emilsson, +46 708 - 625 703, emilsson.mats@telia.com